Login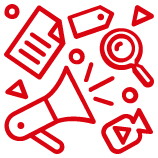 WELCOME TO THE Banner MEDIACENTER!

Here you can find all photos, videos and documents of the company and its products!
"Search" function:
Do you require a certain type of battery? Then please enter the type number (e.g. 544 09, P50 03, ...), the article number (e.g. 010544090101, 013550030101, ...) or at least its first three numerals and/or letters (e.g. 544, P50, ...). Also a full text search is possible, e.g. Power Bull, Booster, Charger, ISO, ...
Copyright and usufruct:
(1) All photos, videos, illustrations, text and other content, of both the Banner website/mediacenter and the brochures, circulars, pamphlets and advertising of Banner GmbH and its sales companies, are subject to copyright.
(2) Any type of application, use, reproduction, provision to the public, etc. requires the prior written approval of Banner GmbH.
(3) The unauthorised use of pictures, videos, illustrations, text and content subject to copyright in the either private or the business area, shall constitute an infringement of copyright and upon coming known will be met by a cease and desist warning, together with the assertion of claims for damages and legal action.
Please note: All application images, from online picture agencies (shutterstock, i-stock, ...), are purchased without exception only for Banner use! Exactly for this reason these pictures are not integrated here for free download.